Find a SIM that suits your travels from our online store - we have data coverage in over 100 destinations worldwide!
Select your delivery method - we dispatch orders daily with Express and Standard shipping options.
When will my order arrive?
Shipping method
NSW
VIC
QLD
SA
TAS
WA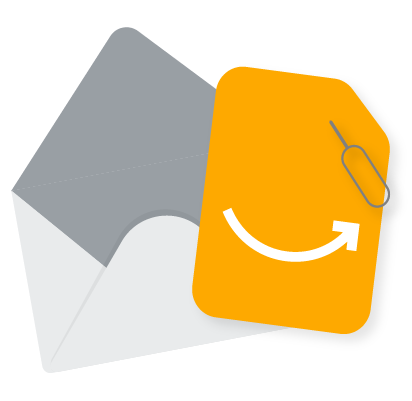 Receive your SIM and get ready to fly! Our SIMs come with everything you need to get started when you touch down at your destination.
Don't forget to download your SIM Quick Guide so you have everything you need to know.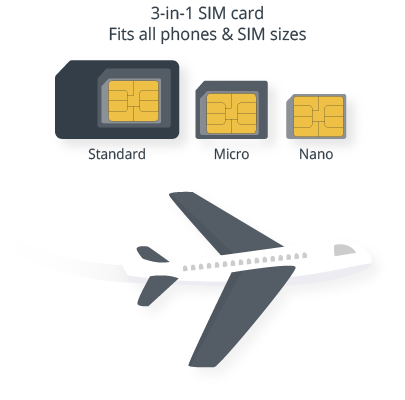 Land at your destination and activate your SIM. All of our SIMs are easy to use with no ID registartion needed. Simply plug and play.
Travel connected. You'll be able to navigate, share and connect every step of the way!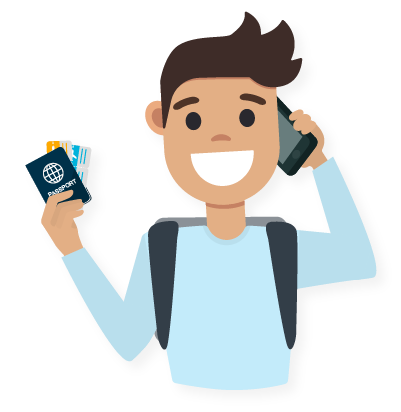 Still have questions?
Message us.

Chat with us on Live Chat.
Talk with us on Facebook.
Leave a message with us here.
We are active from 9AM to 9PM AEST.
Thanks! We'll get back to you soon.
This field is required
This field is required
This field is required
---
Frequently Asked Questions
Who should use SimsDirect?
Aussie travellers! We are here to help Aussies travel connected.
Our travel SIMs are perfect for Aussies who are going on holiday, visiting friends and family or working abroad.
Check out what our customers have to say about us :)
How do I get started?
Simply find a SIM and order it online. We will be with you every step of the way so if you run into any trouble, just message us and we will be with you as fast as humanly possible!
What are our products?
Our SIMs are local prepaid SIMs from other countries. We import them here to Australia to help Aussies find, buy and use SIM cards while travelling. We source our products from the biggest and best Telco's overseas to ensure our customers have a good experience while travelling.
Can I use these SIMs with my phone?
As long as your phone is unlocked then you can use our SIMs.
Simply take out your Aussie SIM (keep it safe!) and replace it with your new SIM from SimsDirect. When you return home simply dispose of your travel SIM and switch back to your Aussie SIM.
Any of our SIMs that have special phone requirements will have it clearly described in the product descriptions, you can also chat with us to make sure your device is supported.
Can these SIMs be topped up or recharged?
Some of our products are rechargeable but most are not. Seeing as they are SIMs from other countries they usually are too difficult to top up or simply don't allow top up at all. Make sure to read all the details of your SIM before you purchase.
All our SIMs store no personal information so we offer our products with 'multi-SIM' discounts if you need more than 1 SIM. Simply dispose of your SIM and replace it with another prepaid SIM to extend your duration/data usage.
Are there any hidden roaming charges?
Nope. We are here to help you save on your roaming fees. With our prepaid SIMs you get exactly what you pay for with no additional fees or costs. For as little as $2 a day, we offer the best way to travel connected.
How does delivery work?
We ship all orders with Australia Post via Registered (5-7 business days) or Express postage (1-2 business days). We take orders up to 3PM and dispatch orders every day at 4PM from our office in Sydney, NSW.
Tracking is provided with all orders once we have dispatched the order from our office.
If you are concerned there is not enough time then reach out to us and we can try organise someting for you.
Do you have a pick-up location?
We don't do pick-ups generally, but if you are in Sydney and in need of a SIM desperately before you go. Reach out to us and we can try our best to organise a pick-up from our office in Pyrmont. No guarantees as we aren't always available.
What if my SIM doesn't work?
Our SIMs generally have no issues, however, nothing is a guarantee. Sometimes, SIMs have unforseen technical issues that will need some fiddling around to fix.
If you land and your SIM does not work as expected then you will need to:
1. Ensure you have followed all steps in your SIM's digital PDF guide.
2. Reach out to us for support via our live chat, facebook or email us at help@simsdirect.com.au
3. If our technical support can't solve your issues then you will be entitled to our Money Back Guarantee and we will help you find the best local option for the rest of your trip. Please read the terms and conditions of our Money Back Guarantee.